SecurSCAN® XL-Pass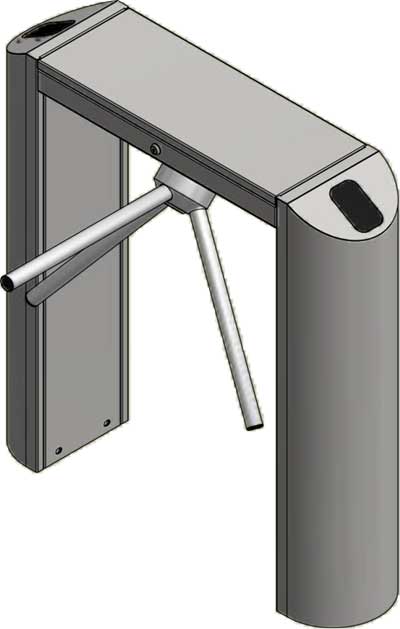 SecurSCAN® XL-PASS is a single-lane bidirectional (two-way) tripod turnstile. Its electronically controlled arm rotation provides a safe and smooth passage experience.
SecurSCAN® XL-PASS is the ideal crowd-access-managing solution for a wide variety of applications and will perform flawlessly in all settings where control of high flows of pedestrian traffic in both directions is needed.
SecurSCAN® XL-PASS features a rugged construction as well as a modern, ergonomic design. Its two-legged casework and rotating arms are made of AISI 304 stainless steel.
In case of emergency (e.g. power failure), the horizontal arm automatically drops to allow free passage.
If you need to restrict access to authorized personnel only, SecurSCAN® XL-PASS easily integrates with any biometric or RFID access control system (www.iaccess.eu).
A remote control option is also available.
SecurSCAN® XL-PASS is the ideal solution to secure:
Shopping centers/malls, parking lots

Amusement parks, museums, stadiums

Railway and underground stations, boarding gates

Sports facilities, swimming pools, wellness centers, spas

Specifications
Electronically controlled bidirectional (two-way) passage

Entirely made of AISI 304 stainless steel with variable thickness (1.5 mm to 2.0 mm/0.0590 ″ to 0.0787 ″)

LED way-mode indicators (green arrow/red cross)

Can be interfaced with any access control system

Floor fixing with expansion anchors

Connection cables exit at the bottom of the turnstile

Power supply: input 220 V AC / output 24 V DC

Electromagnet voltage: 24 V DC - Power consumption: 30 W

Tripod arm length: 430 mm (≈16.9 ″)

Tripod arm diameter: 32 to 38 mm (≈1.26 ″ to 1.50 ″)

In case of emergency, the horizontal arm automatically drops to allow free passage

Tripod arm maximum stress: 30 kg (≈66 lbs.)

Tripod arm working thrust force: 3 kg (≈6.6 lbs.)

Operating temperature range: −20 °C to 70 °C (−4 °F to 158 °F)

Throughput rate: 20 to 35 people per minute

Protection rating: IP55 or IP65 (with optional enclosure)

Dimensions (L x W x H): 1290 x 500 x 977 mm (≈50.8 ″ x 19.7 ″ x 38.5 ″)

Weight: 80 kg (≈176 lbs.)