SecurSCAN® XRC150-165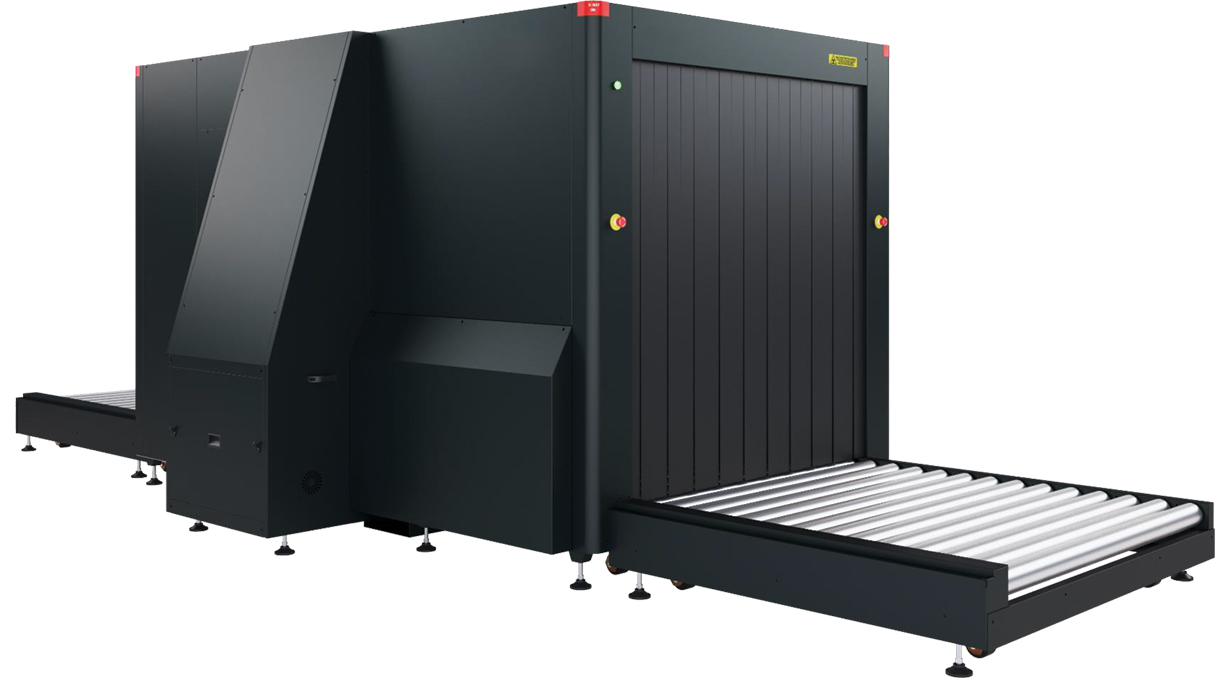 PHISICAL PROPERTIES
Dimensions: 335 x 288 x 217 cm. (L x W x H)

Tunnel Dimensions: 135.5 cm. (W) x 165.5 cm. (H)

Approx. Weight Unpacked: 2000 kg.

Conveyor Speed: 0,10 mt/sec.

Conveyor Load Capacity: 3000 kg. (evenly distribuited)

Conveyor Height: 30 cm.

System Power: 230VAC +/- 10% / 60-50 Hz
SecurSCAN XRC150-165 is a large-sized X-Ray control apparatus, whose dimensions make it suitable only for security checks of large parcels and pallets of goods, in places such as:
Freight Terminals

Storage

Storage Areas

Customs
The large size does not make it any less effective in detecting also small objects, guaranteeing an accurate location and a precise and detailed representation of the objects.
Weapons, Drugs, Ambiguous Objects, Detonators, Rudimentary Explosive Devices and Electronic Devices are just a few examples of what XRC150-165 is able to analyse.
SecurSCAN XRC150-165 is the large-sized X-Ray security system chosen the most by Customs and Maritime Companies.
It detects:

Smuggled Items

Handcrafted and conventional Explosive Weapons and Ordnances

Powdered, liquid and solid drugs

Organic and inorganic material
SecurSCAN XRC150-165 is the most efficient large-sized X-Ray system, and is ideal to be installed in all places with a high potential "risk of terrorist attack", as well as in strategic and warehousing centres where the transit of illegal goods and objects are commonplace.
Standard Features:
Programmable Function Keys

Parcel Counter

Date and Time Display

Virtual Threat Image Projection (TIP)

Organic/Inorganic Threat Alarm

Operator Training Program (OTP)

Self Diagnosis

Generator Timer

Automatic Stop Conveyor
X-Ray Generator and Image Performance
1.

Steel penetration: 30 mm. guaranteed / 33 mm. Typical

2.

Spatial Resolution: 38 AWG guaranteed / 40 AWG typical

3.

Cooling: Sealed oil bath

4.

Anode Voltage: 160 KV

5.

Tube Current: 1 mA

6.

X-Ray Direction: Horizontally
Optional Features:
Barcode Reader System

External Camera Archiving

Remote Viewing Station

Recheck Station

Network Supervisory System (NSS)

Remote Access Connection

Smart Card Login