SecurSCAN® XRC75-55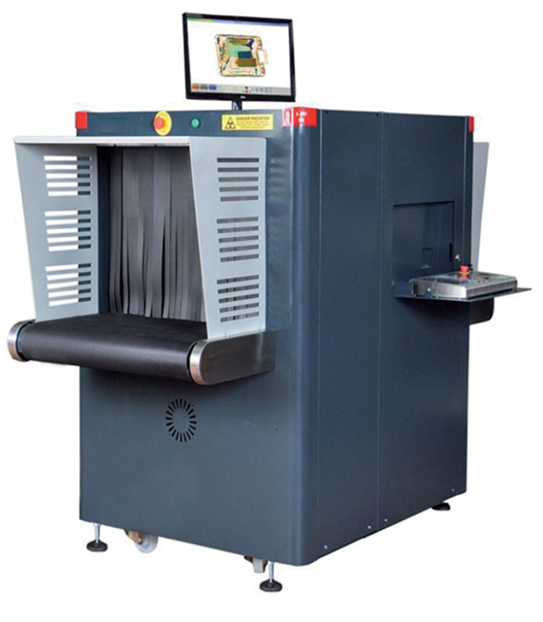 SecurSCAN 75-55 is the most suitable X-Ray control system to guarantee maximum security at airports and maximum efficiency at border crossings.
Detects quickly and effectively Weapons, Drugs and smuggled goods, illegally stored inside luggage.
The medium size enables easy checking of even the largest luggage, looking for items that have been illegally transported.
When scanning the luggage within the tunnel, SecurSCAN 75-55 is able to represent the luggage contents to the operators, highlighting any object of suspicious or potentially dangerous nature as:

Weapons (even very small ones)

Detonators, Powders, Drugs

Smuggled goods

Electronic Devices

It provides sharp images of the inspected baggage contents, the nature of the scanned goods is represented with different colours, and automatically warns the operator of the presence of objects considered dangerous.
Specifications
Dimensions: 215 x 102 x 147 cm. (L x W x H)

Tunnel dimensions: 75 x 55 cm. (L x H)

Weight: 900 kg.

Conveyor Belt Speed: 0.20 mt/sec.

Conveyor Belt Load Capacity: 165 kg. uniformly distributed

Conveyor Belt Height: 81 cm.

Power supply: 230VAC +/- 10% / 60-50 Hz

Dimensions with packaging: 229 x 122 x 203 cm.

Weight with packaging: 1000 Kg.
X-Ray Generator and Image Performance
1.

Steel penetration: 30 mm. guaranteed / 33 mm. Typical

2.

Spatial Resolution: 38 AWG guaranteed / 40 AWG typical

3.

Cooling: Sealed oil bath

4.

Anode Voltage: 150 KV

5.

Tube Current: 0.7 mA

6.

X-Ray Direction: Vertically upwards
High Penetration X-Ray generator option (XRC-75-55 version)
1.

Steel penetration: 33 mm. guaranteed / 35 mm. Typical

2.

Spatial Resolution: 38 AWG guaranteed / 40 AWG typical

4.

Cooling: Sealed oil bath

5.

Anode Voltage: 170 KV

6.

Tube Current: 1 mA

7.

X-Ray Direction: Vertically upwards