SecurSCAN® XRC180-180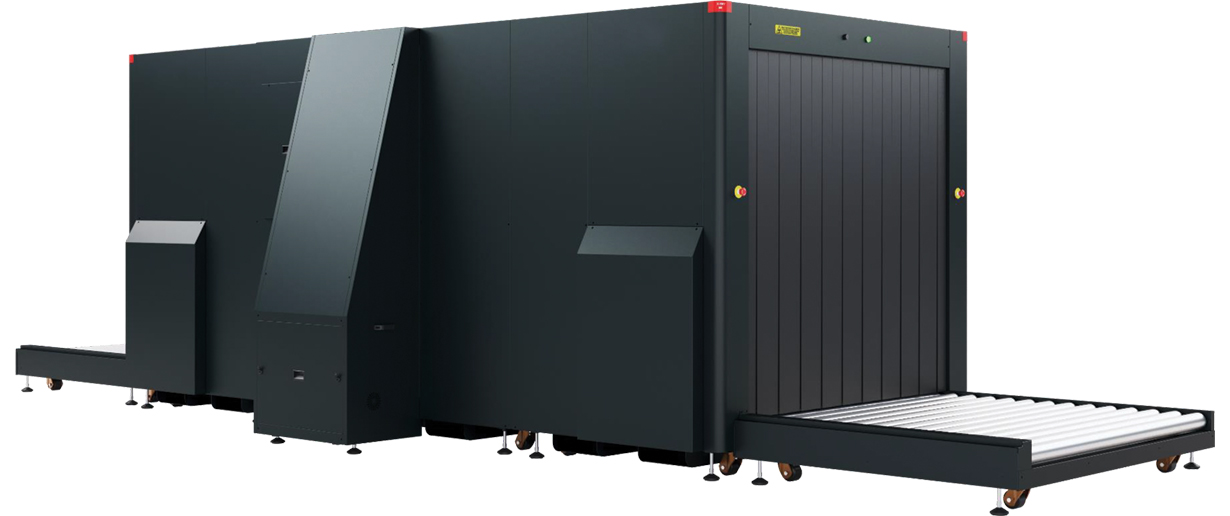 PHISICAL PROPERTIES
Dimensions: 810 x 277.5 x 213.5 cm. (W x L x H)

Tunnel Dimensions: 182.5 cm. (W) x 181 cm. (H)

Approx. Weight Unpacked: 5800 kg.

Conveyor Speed: 0,20 mt/sec.

Conveyor Load Capacity: 300 kg. (evenly distribuited)

Conveyor Height: 29 cm.

System Power: 230VAC +/- 10% / 60-50 Hz
SecurSCAN XRC180-180 is an advanced X-Ray inspection system whose extremely large dimensions make it particularly suitable for the inspection of large packages and pallets of goods, in places such as:
Freight Terminals

Storage

Storage Areas

Customs

The large size of the gate (180x180cm.) enables detection of large objects (pallets) while maintaining maximum sensitivity and detection capacity, even for the smallest objects. Weapons, Drugs, Ambiguous Objects, Detonators, Rudimentary Explosive Devices and Electronic Devices are just a few examples of what XRC180-180 is able to analyse.

SecurSCAN XRC180-180 is the large-sized X-Ray security system preferred the most by Customs and Maritime Companies, as well as Shipping Companies.
It identifies:


Organic and inorganic material

Handcrafted and conventional Explosive Weapons and Ordnances

Smuggled Items

Powdered, liquid and solid drugs

SecurSCAN XRC180-180 is the most successful large-sized X-Ray system, and is recommended to be installed in all places with a high probability of risk of terrorist attack, particularly in strategic and freight centres where the transit of illegal goods is daily routine.
Standard Features:
Programmable Function Keys

Parcel Counter

Date and Time Display

Virtual Threat Image Projection (TIP)

Organic/Inorganic Threat Alarm

Operator Training Program (OTP)

Self Diagnosis

Generator Timer

Automatic Stop Conveyor
X-Ray Generator and Image Performance
1.

Steel penetration: 35 mm. guaranteed / 36 mm. Typical

2.

Spatial Resolution: 36 AWG guaranteed / 38 AWG typical

3.

Cooling: Sealed oil bath

4.

node Voltage: 180 KV

5.

Tube Current: 1 mA

6.

X-Ray Direction: Diagonally upwards
Optional Features:
Barcode Reader System

External Camera Archiving

Remote Viewing Station

Recheck Station

Network Supervisory System (NSS)

Remote Access Connection

Smart Card Login