RAYSECUR MailSecur™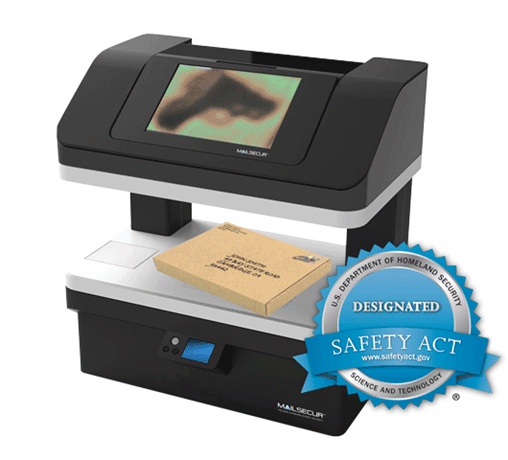 MailSecur is a latest generation device designed for the security checks of letters, parcels and postal parcels.
Thanks to the particular Millimeter Wave Technology, it has a sensitivity 10 times greater than the mmWave technology used by the United States government in airports.
With MailSecur, you can check the contents of your inbox via a real-time video scan and protect sensitive environments and people.
Letters and bomb packages, craft devices, incendiary devices, weapons and knives (including ceramic), can be detected in real time with MailSecur's 3D images.
MailSecur detects more potential threats than traditional X-ray mail scanners. With just a slight movement, you can see suspicious liquids and powders moving on the video in real time, as well as traditional dangerous objects such as guns, knives, detonators etc.
Lightweight, portable and easy
MailSecur is the size of a copier and can be installed on a desktop or table in minutes.
What MailSecur Identify?
Explosive devices and detonators

Powders, liquids and drugs in general

Razor blades, hacksaws and hidden keys

Weapons of any kind

Foil wraps
Where is Scanmail indicated?
Airports, Customs

Courts, Prisons

Public Offices, Companies, Barracks
Technical Specifications:
Millimeter Wave (mmWave) Technology: Provided at 10x The Resolution Used In Airport Screening;

- Dual Zone – Standard and 3x Zoom View;

- Safe, Requires No Certification, Dedicated Safety Protocols, or Special Shielding.

Dimensions: 19.5 in x 32 in x 31.5 in (49.5 x 81.3 x 80 cm)

Camera(s): mmWave and Optical

Image Enhancement Multiple Color Mapping;

- Brightness and Contrast Adjustment;

- 3X Optical Magnification

Automated Threat Detection

Metal Detection: Sensitivity Control, Visual and Audible Alarm, Dual Zone

Radiation Detection: Gamma Radiation, Beta Radiation

Power: Standard 110/220 V AC

Internet Connection: Ethernet, WiFi, LTE

Peripherals: USB, HDMI

Setup time: Typically <30 minutes
Video