SecurSCAN® H2L-Pass IX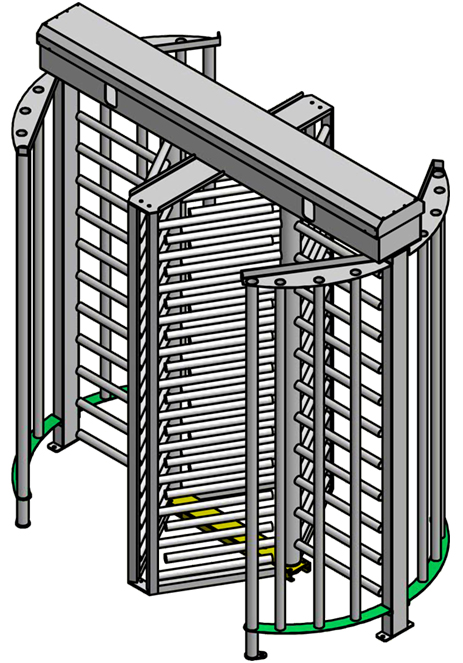 SecurSCAN® H2L-PASS IX is a full-height two-lane turnstile designed to provide floor-to-ceiling security. It allows access to one person at a time and it is impossible to climb over or crawl under it.
SecurSCAN® H2L-PASS IX is the ideal crowd-access-managing solution to regulate orderly flows of pedestrian traffic in all indoor/outdoor settings which require high security protection. It is most often used to secure unsupervised perimeter locations.
SecurSCAN® H2L-PASS IX features a heavy-duty construction in AISI 304 stainless steel and two stainless steel three-section rotors with an operating mechanism properly designed to withstand high mechanical stress.
If you need to restrict access to authorized personnel only, SecurSCAN® H2L-PASS IX easily integrates with any biometric (fingerprint, iris or facial recognition) or RFID access control system (www.iaccess.eu). A remote control option is also available.
Ottimale per la sicurezza di:
Stadi, Palazzetti dello sport, Concerti

Uffici Governativi, Tribunali, Istituti Penitenziari, Ambasciate

Aeroporti, Imbarchi, Stazioni Ferroviarie e Metropolitane
The full-height SecurSCAN® HL-Pass turnstile perfectly integrates with all iAccess access control systems.
Specifications:
Double full-height turnstile

Electronically controlled bidirectional (two-way) passage

Central rotor assembly entirely made of AISI 304 stainless steel

AISI 304 stainless steel frame structure

Shield assembly and barrier section entirely made of AISI 304 stainless steel tubing

LED way-mode indicators (green arrow/red cross)

Can be interfaced with any access control system

Wiring runs through the turnstile posts

Floor fixing with expansion anchors

Power supply: 220 V single phase, 50 Hz

Electromagnet voltage: 24 V DC, Power consumption: 70 W

Operating temperature range: −20 °C to 70 °C (−4 °F to 158 °F)

Throughput rate: 40 to 70 people per minute

Protection rating: IP55 or IP65 with optional canopy/enclosure

Weight: 650 kg (≈880 lbs.)