SecurSCAN® VS-Pass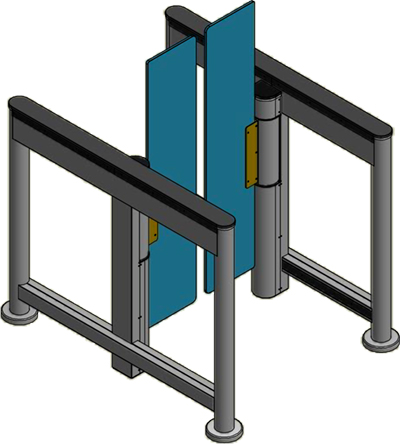 SecurSCAN® VS-PASS is an optical turnstile with motorized barriers entirely made of stainless steel with clear impact-resistant polycarbonate swing barriers.
It features a simple design and is suitable for any security access control application.
If you need to restrict access to authorized personnel only, SecurSCAN® VS-PASS easily integrates with any biometric (fingerprint, iris or facial recognition) or RFID access control system (www.iaccess.eu).
SecurSCAN® VS-PASS features standard passage widths of 60 cm (≈23.6 ″) or 90 cm (≈35.4 ″) to enable safe and smooth wheelchair access.
SecurSCAN® VS-PASS is an access control system made up of side cabinets which control the opening and closing of motorized polycarbonate swing panels.
Common Applications:
Business/management centers, office facilities

Airports, boarding gates, railway and underground stations

Shopping centers/malls, grocery and retail stores, parking lots

Swimming pools, sports facilities, wellness centers, spas, amusement parks, stadiums
Specifications
Impact-resistant polycarbonate swing barriers, which can withstand high mechanical stress

Easily integrates with any access control system (biometric, RFID, hands-free proximity readers etc.)

Cabinet side panels made of shaped stainless steel

Cabinet top covers made of impact-resistant, shock-absorbing, scratch-resistant material

LED way-mode indicators (green arrow/red cross)

Tailgating detection with infrared sensors

Floor fixing with expansion anchors

Power supply: 220 V single phase, 50 Hz

Electromagnet voltage: 24 V DC - Power consumption: 140 W

Operating temperature range: 0 °C to 40 °C (32 °F to 104 °F)

Throughput rate: 30 people per minute

Protection rating: IP55 or IP65 (with optional enclosure)