SecurSCAN® TM-Pass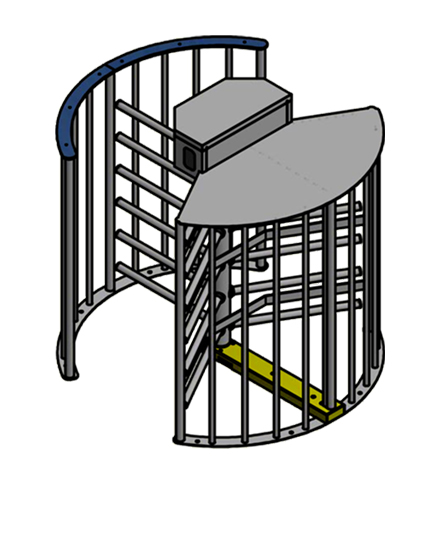 SecurSCAN® TM-PASS is a waist-height single-lane turnstile. Its electrically controlled arm rotation is designed to allow access to one person at a time. It is impossible to climb over or crawl under it.
SecurSCAN® TM-PASS is the ideal crowd-access-managing solution to regulate orderly flows of pedestrian traffic in all settings which require high security protection. It can be used to secure unsupervised perimeter locations.
SecurSCAN® TM-PASS features a heavy-duty construction in AISI 304 stainless steel and a stainless steel three-section rotor with an operating mechanism properly designed to withstand high mechanical stress.
If you need to restrict access to authorized personnel only, SecurSCAN® TM-PASS easily integrates with any biometric or RFID access control system (www.iaccess.eu). A remote control option is also available.
SecurSCAN® TM-PASS is the ideal solution to secure:
Amusement parks, museums, stadiums

Shopping centers/malls, parking lots

Railway and underground stations, boarding gates

Sports facilities, swimming pools, wellness centers, spas

Specifications
Electronically controlled bidirectional (two-way) passage

Entirely made of AISI 304 stainless steel with variable thickness (1.5 mm to 2.0 mm/0.0590 ″ to 0.0787 ″)

LED way-mode indicators (green arrow/red cross)

Can be interfaced with any access control system

Floor fixing with expansion anchors

Connection cables exit at the bottom of the turnstile

Power supply: input 220 V AC / output 24 V DC

Electromagnet voltage: 24 V DC - Power consumption: 30 W

Rotor arm length: 600 mm (≈23.6 ″)

Rotor arm diameter: 32 to 38 mm (≈1.26 ″ to 1.50 ″)

Fail-safe configuration (unlocks in case of emergency, allowing free passage in both directions)

Operating temperature range: −20 °C to 70 °C (−4 °F to 158 °F)

Throughput rate: 20 to 35 people per minute

Protection rating: IP55 or IP65 (with optional enclosure)

Dimensions (L x W x H): 1437 x 1549 x 1349 mm (≈61.8 ″ x 52.9 ″ x 51.2 ″)

Weight: 200 kg (≈441 lbs.)